2023 RAM 2500 vs. 2023 Ford F-250 in Tempe, AZ
Comparing the 2023 RAM 2500 vs. 2023 Ford F-250
Not all trucks are built equally. As with any vehicle, you'll find that some truck models are more reliable and better suited to meet your driving needs. If you're in the market for a full-size heavy-duty truck, the new 2023 RAM 2500 should be your next purchase. This capable, powerful truck is perfect for work and play, off-roading, and daily driving needs. You'll love how it feels to be at the wheel and to witness this truck do its job.
Other trucks closely match what the RAM 2500 can do. For example, the new 2023 Ford F-250 is in this same class of trucks. It, too, performs well and is ideal for the most demanding environments and conditions. You should review both models and compare their features as you look at the RAM 2500 vs. F-250. You'll see where the 2500 has some advantages. Then, you need to come down to Tempe Ram in Tempe, AZ, and test drive the new RAM 2500.
Interior Comparison
Before you get too excited to check under the hood, you'll want to take in what awaits you inside. The interior is quiet, gorgeous, and ultra-comfortable. First, the spacious cab won't leave you feeling restricted for space. It has 40.9 inches of legroom in the front and 40.2 inches in the back.
The 2023 RAM 2500 also has some nice conveniences so you can have a more enjoyable ride. The dual-zone automatic climate control will come in handy when the weather outside is harsh. There is also an automatic rearview mirror and secondary ventilation controls. The Limited trim has real leather seats and real wood trim in the interior to make for an elegant appearance and pleasant ambiance.
The 2023 Ford F-250 has many of the same features. It is also comparable when it comes to legroom and headroom. In fact, it has a little more room in the back seats than the RAM 2500 affords.
2023 RAM 2500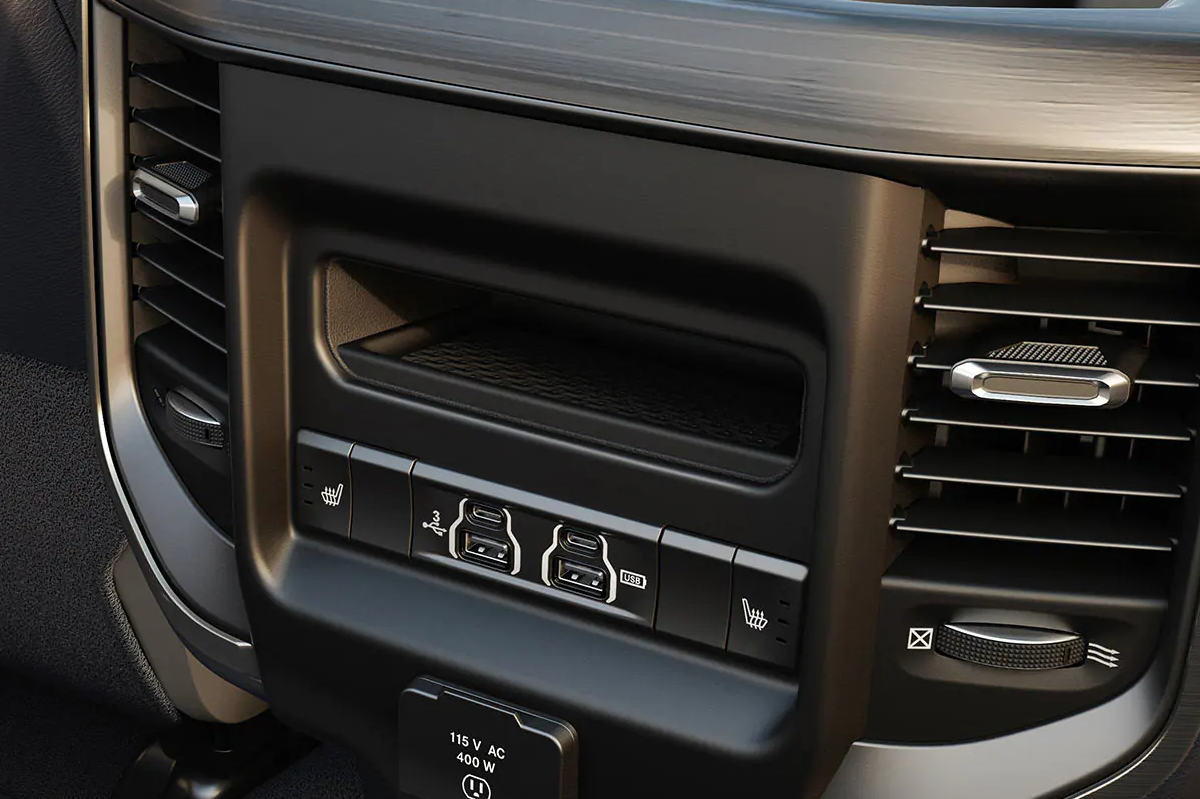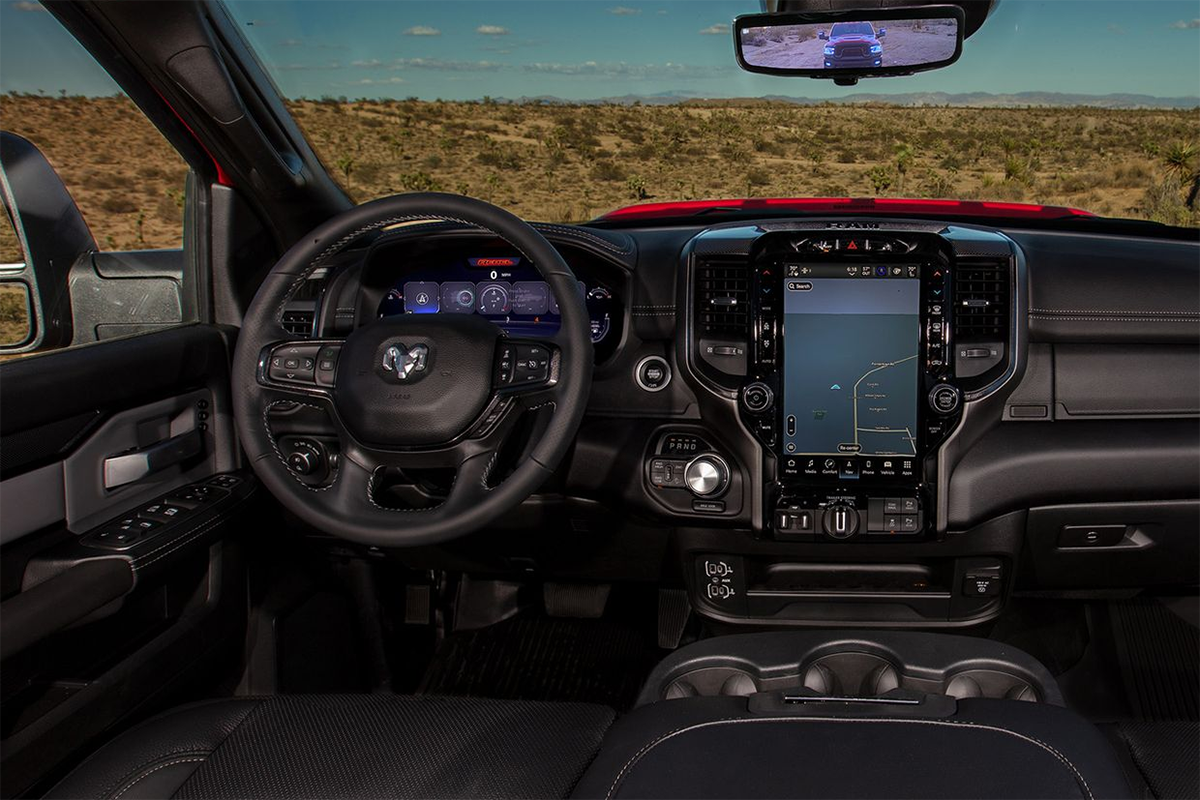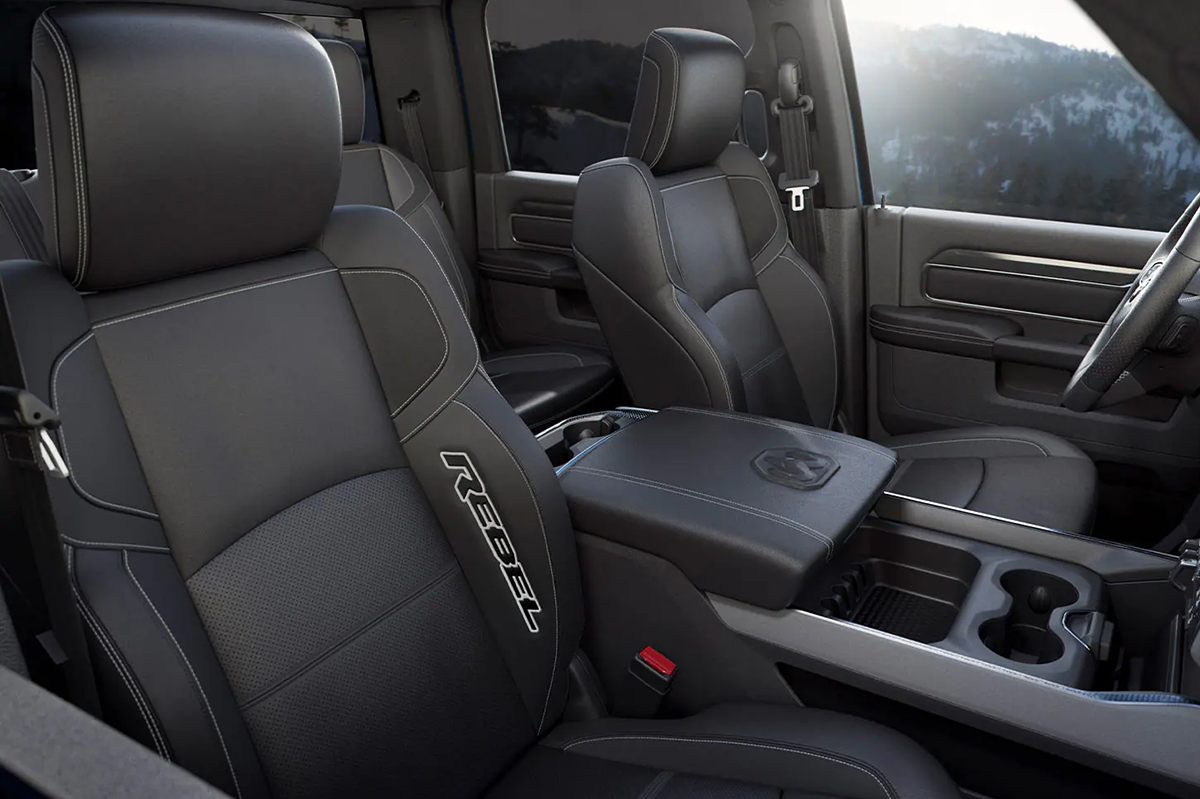 2023 Ford F-250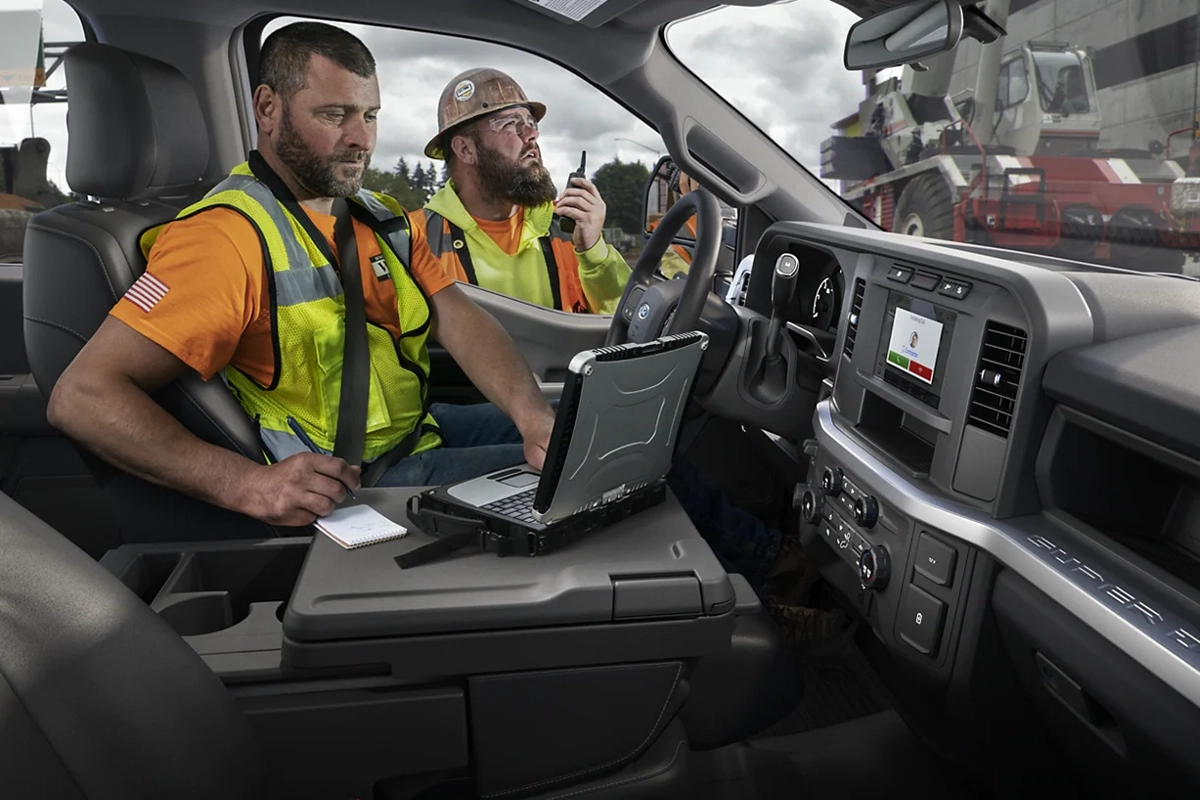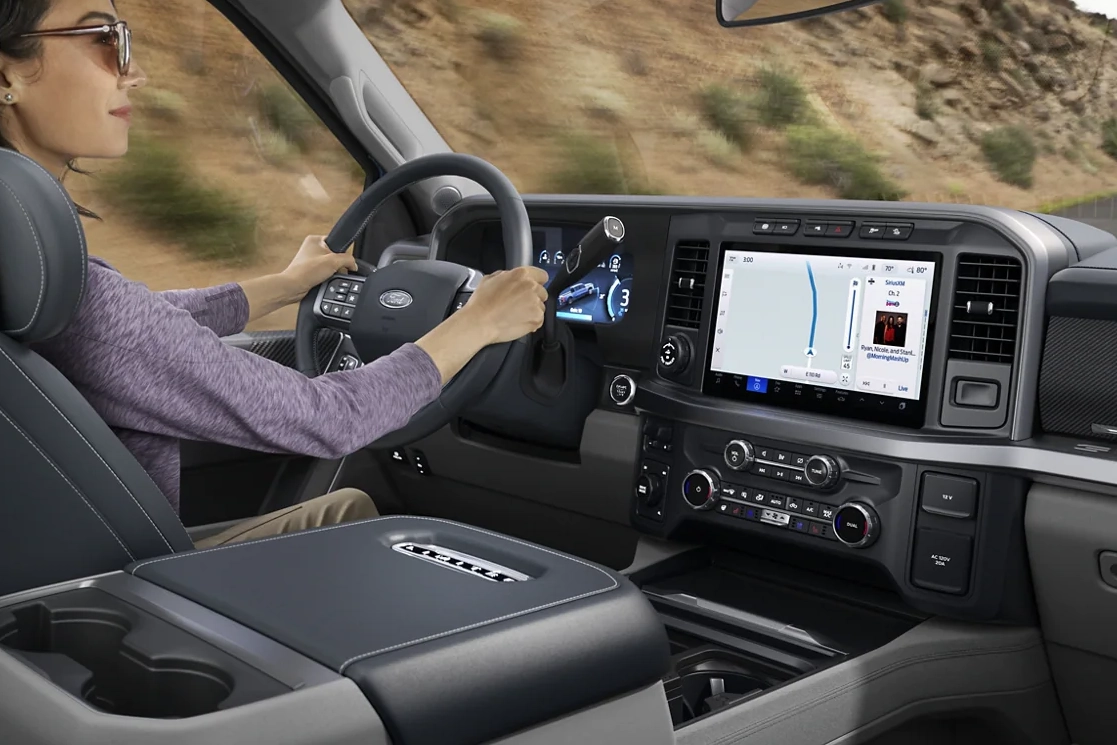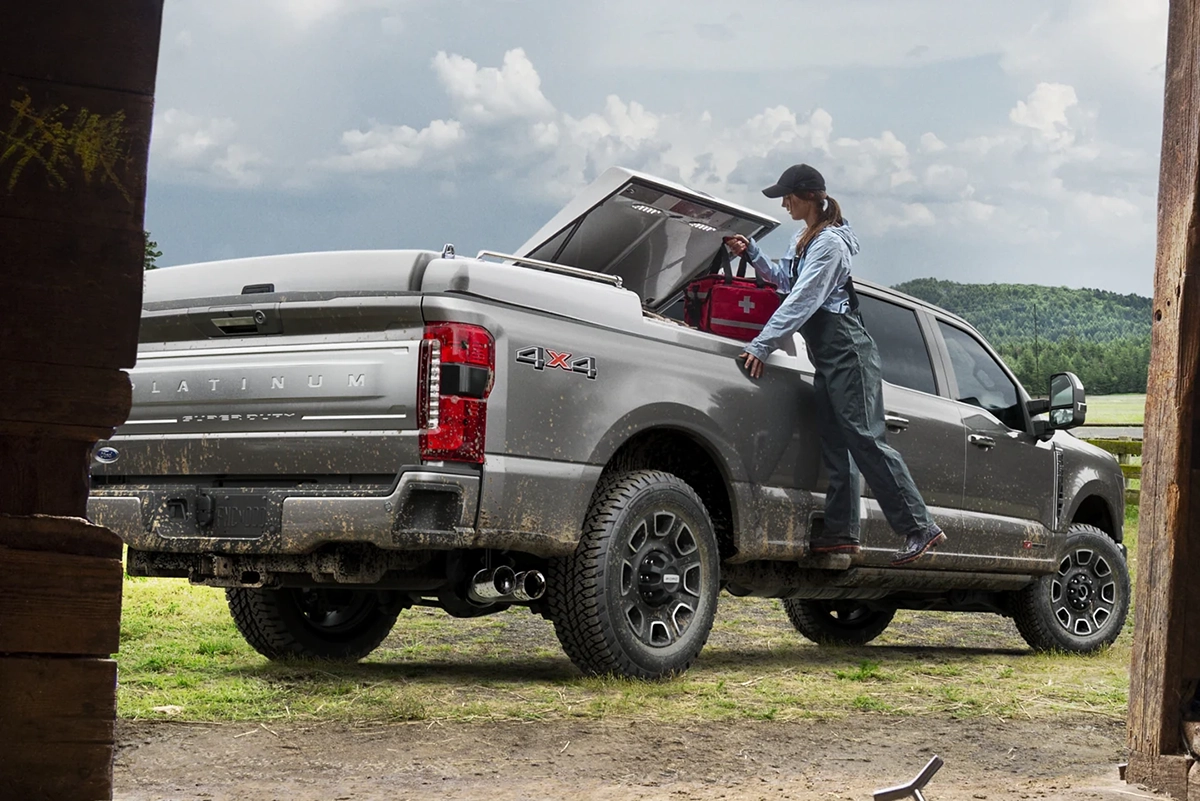 Performance Comparison
When you have a full-size truck, your expectations should be high when it comes to performance and power. The 2023 RAM 2500 won't let you down here. You shouldn't have to worry about tackling rough roads and difficult conditions in Tempe, AZ, or anywhere else when you drive this beast. It has two engine choices. There is a 6.3-liter HEMI V8 engine that makes 410 horsepower and 429 pound-feet of torque. Or, you could go for the 6.7-liter Cummins Standard-Output Turbo Diesel engine that puts out 370 horsepower and an incredible 850 pound-feet of torque. With this power, your truck will be able to tow up to 20,000 pounds.
You can also bet on the 2023 Ford F-250 when it comes to engine power. It also has a few different engines, all V8 powertrains. There is a 6.8-liter engine that makes slightly less horsepower than the RAM 2500s 6.3-liter engine. The F-250's version puts out 400 horsepower.
Safety Features Comparison
The best truck models will also keep you and your passengers safe. Protection is available with the safety features on the 2023 RAM 2500. It will also help to reduce the chances of accidents on the road as you drive in Tempe, AZ, and anywhere else. This truck has blind-spot monitoring, rear cross-traffic alert, adaptive cruise control, automatic high beams, and automatic emergency braking.
The Ford F-250 does well when it comes to safety too. However, automatic high beams are not standard with this truck.
Find the 2023 RAM 2500 in Tempe, AZ
There is a lot of value in comparing the RAM vs. Ford when you are looking for a new vehicle. Trucks are not an exception. If you are having a hard time deciding between the 2023 RAM 2500 and the 2023 Ford F-250, take a look at the interior features, power and performance, and safety features. Though these two trucks are close, the 2500 wins the contest. You'll see that it has a little more power in the engine. There are also some additional interior features that you will love. Now is the time to come to Tempe Ram in Tempe, AZ, and see the new RAM 2500 for yourself. Stop by today for a test drive.